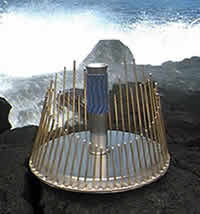 - MegaBass Waterphone -
I invented the
Waterphone
in the late 60s and hold patent no. 3896696 on it.
Over the past years I have made over 1000 waterphones. The hand held models I have made are: Small, Standard, Wide Range Flat Bottom (WRFB), Ultra light and a Bass Waterphone with a bowl top. All of these have been discontinued as the 3 current models Whaler, Bass, and MegaBass are superior in sound, materials and construction. The RSGs - "Revolving Sound Generators" which are the very large versions of the waterphone sometimes on a pivot stand and sometimes suspended have also changed form and are made from the same flat pans as the MegaBass. The RSGs have an additional series of very long tonal rods coming off the bottom. Larger diameter waterphones have more of everything especially low end.?All hand held waterphone make good hand water drums and can be taken into the water and played by utilizing the "hand bowing" technique. This hand bowing method is used for calling whales and other cetacean. The hand held models are also excellent for playing with the superball mallets in the friction mode by dragging a superball mallet across the bottom pan.
I perform on my instruments including the waterphone and can give presentations utilizing my musical inventions, sound devices, and sonic sculptures. I also do commissions for special projects either of your design or mine or a combination. I work in wood, metals, bamboo as well as fine arts.
I continue to develop and make new sound devices and musical instruments. Please take a look at my
Price List
to see the descriptions, photos and prices of some of my aural creations. Ask me questions if you like.